This is the story of how seemingly unrelated events lead to people trying to kill each other. You know something like this will happen when the same scene is shown three times, from different perspectives. This was the earliest I had seen a movie, so soon after release - just a lag of one day (I must be growing up) Supposedly inspired by "Changing Lanes", maybe just the concept. Nice to watch, once.
You know the movie was nice, as the theatre was half empty. Bloody Indians, don't like good movies.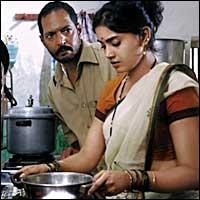 "I play a completely sensuous wife. The whole world is going to feel like marrying me -- I can bet on that. Every man who watches the film will wish for a wife like that,"
I agree wholeheartedly with her :D